Alumni Lecture Series – NGO and Public Sector Structures Role in the Function of Society
September 18, 2019 @ 7:30 pm

-

9:00 pm

EEST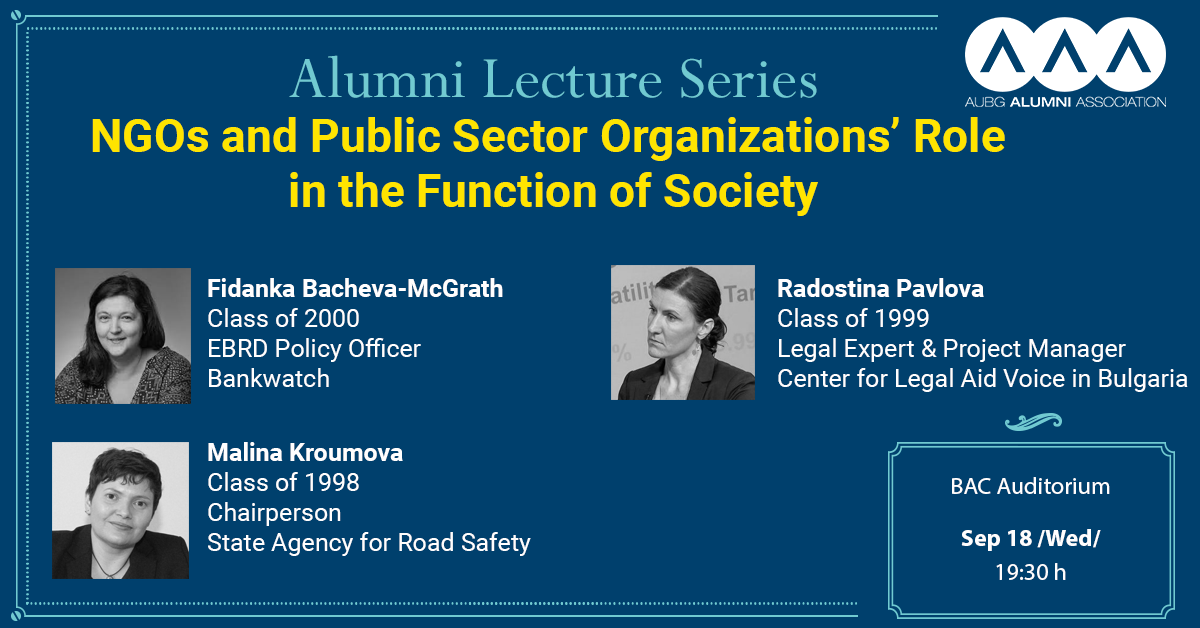 Alumni Speaker Series continues in the Fall semester at AUBG with a panel on the roles of NGOs and Public sector structures in the overall functioning and advancement of society. Students can also learn more on the various career paths, education and qualifications expected to work in these spheres.
Come and bring your questions to the alumni experts.
You shall hear from alumni:
Fidanka Bacheva-McGrath (Class of 2000)
EBRD policy officer, Bankwatch
https://bankwatch.org
Malina Kroumova (Class of 1998)
Chairperson, State Agency for Road Safety
https://www.sars.gov.bg/
Radostina Pavlova (Class of 1999)
Legal Expert and Project Manager,
Center for Legal Aid – Voice in Bulgaria
http://www.centerforlegalaid.com/
They will be joined by Jordan Karabinov (Class of '97), President of AUBG Alumni Association and former Member of the Board, Anticorruption Fund /https://acf.bg/.
WHEN: 18 Sept /WED/ @19:30
WHERE: BAC Auditorium
ALL ARE WELCOME TO ATTEND!